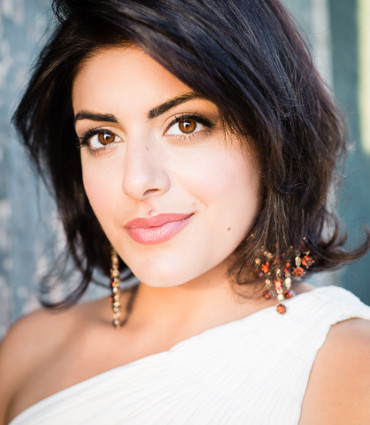 LAUREL SEMERDJIAN, an American mezzo-soprano of Armenian descent, has recently been hailed as "a dramatic and musical tour de force" (Pittsburgh Tribune) for her portrayal of Asakir in Pittsburgh Opera's production of Mohammed Fairouz's Sumeida's Song. Her voice has been praised for its "guttural low notes" (Pittsburgh Post Gazette) and "appealing weight, intensity and flexibility." During the 2018–2019 season, Ms. Semerdjian returned to Pittsburgh Opera as Suzuki in Madama Butterfly and to sing the title role of Benazir Bhutto in a workshop of Mohammed Fairouz's Bhutto with Pittsburgh Opera/Beth Morrison Projects. She joins Symphony Tacoma as the alto soloist in Handel's Messiah, rejoins Tacoma Opera for her debut in the title role of The Rape of Lucretia, and performs with Syracuse's Symphoria as mezzo soloist in Haydn's Mass in Time of War and Beethoven's Symphony No. 9.
In the summer of 2019, Ms. Semerdjian will make her company debut as Flora in La traviata with Summer Garden Opera and in the fall of 2019, Ms. Semerdjian will make her Opera Southwest debut in Bottesini's rarely performed Ali Baba. In January 2020, she will return to Pittsburgh Opera, singing the role of Bradamante in Handel's Alcina and March of 2020, Ms. Semerdjian will make a company debut with Florentine Opera, singing the title role in Le Tragédie de Carmen. During the 2017–2018 season, Ms. Semerdjian returned to both Sarasota Opera, as Flora in La traviata, and Syracuse Opera as Suzuki in Madama Butterfly. She made company debuts with St. Petersburg Opera (Florida) as Dritte Dame in Die Zauberflöte, with Pittsburgh's Resonance Works as Ježibaba in Rusalka, and with Washington Concert Opera debut as guest soloist in their Opera's Greatest Heroines gala concert. Ms. Semerdjian was born in San Diego, CA and raised in Tacoma, WA. She holds a Master of Music in Vocal Performance from the University of North Texas and a Bachelors of Music in Vocal Arts with a Minor in Music Industry from the University of Southern California.
We are thrilled to welcome Ms. Semerdjian to the Summer Garden Opera for her premiere performance.